Robotic surgery is a minimally invasive surgical option used to treat several gynecological conditions that may not respond to medications or non-invasive procedures.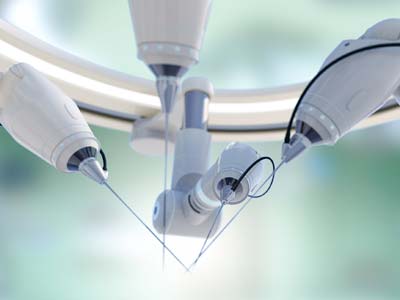 While traditional gynecologic surgery requires large incisions and longer recovery time, robotic assisted surgery is done through a few small incisions using a narrow lighted scope and miniature instruments. This approach allows our physicians to perform complex procedures with extreme precision.
We now offer this option to treat certain conditions, including:
Abdominal and pelvic pain
Endometriosis
Hysterectomy
Painful periods and heavy bleeding
Pelvic organ prolapse
Uterine fibroids
Benefits include:
Fewer complications
Less pain and discomfort
Less blood loss
Less scarring
Lower risk of infection
Quicker recovery
Robotic-assisted surgeries are performed at Emory Decatur Hospital by Dr. Layla Jaffree and Dr. Amanda Pham.
There are risks associated with any kind of surgery, including robotic surgery. Your physician will discuss these risks with you.