While you're pregnant, you should consume the following each day through diet or supplements: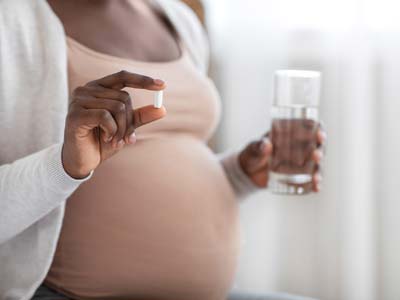 Folic acid 400-800 micrograms (until the end of the first trimester)
Iron 30 mg (or be screened for anemia)
Vitamin D 600 international units
Calcium 1,000 mg
It's important to eat a healthy, well-balanced diet during pregnancy. Typically, pregnant women should increase their caloric intake a small amount - 200-300 calories a day.
Underweight (BMI < 18.5) should gain 28-40 pounds
Normal weight (BMI 18.5-24.9) should gain 25-35 pounds
Overweight (BMI 25-29.9) should gain 15-25 pounds
Obese (BMI 30.0 or more) should gain 11-20 pounds
Remember: Avoid alcohol, drugs and any form of tobacco product.
For more information, see Pregnancy Dos and Don'ts.